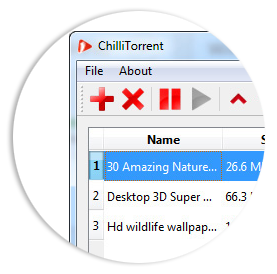 What is ChilliTorrent
ChilliTorrent is a free bittorrent client to download, upload and open torrent files that people are sharing across the internet. It comes with many good features that a bittorrent client should have.
Why use ChilliTorrent
ChilliTorrent is an innovative application to download and upload torrent files that people are sharing across the internet online. Experience the fast download speed and convenient program interface with necessary features. We have excluded the unnecessary to optimize your internet and computer resources.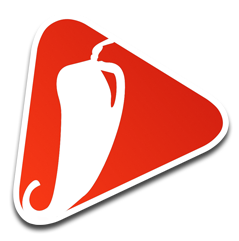 How to install
Click the red download button Get ChilliTorrent. Save and open the Setup.exe file. A download manager will guide you through the installation process.
Starting with the simple bittorrent client
ChilliTorrent is a simple bittorrent client for Windows that anyone can download and use for free. The core concept of this torrent client is that downloading and uploading of files should be easy, fast and safe. This makes file sharing not only technically possible but also mentally enjoyable.
History of Bittorrent
To understand ChilliTorrent and its functions better, we first need to go back in time to see how bittorrent started. American programmer Bram Cohen invented the bittorrent protocol back in 2001. While the previous model worked by downloading a file from a single source, Cohen's new P2P technology used multiple sources at a time to transfer large files. His idea resulted in faster download speed and lower bandwidth consumption. Bittorrent is a way of online communication that transfers data over the web. It ables users to share large files via peer-to-peer networks by cutting the file into tiny pieces and receiving those pieces later on from different computers of users.
ChilliTorrent is a free bittorrent client
In order to download or upload files one needs a bittorrent client that is a computer application meant to adapt the bittorrent protocol. Here comes ChilliTorrent into the game. ChilliTorrent is designed to meet the needs of every torrent downloader. Its functions satisfy a newcomer in the torrent world as well as an advanced torrent program user. The main reason for a simple torrent client is to download torrents. This can't be done without uploading torrents, cause otherwise users wouldn't have anything to download. Therefore, these two are the core features of a best torrent client. Everything else that comes with a free bittorrent client would be just an extra bonus. Though ChilliTorrent was developed to be a free bittorrent client, it sure doesn't lack of the necessary features.
Features of the best torrent downloader
Next, we'll take a look at the best features of this simple torrent client. There are no limits how many torrent files you can download or upload simultaneously. The best torrent downloader has a clean user interface which has a nice overview of its tasks. Different columns show the name, size, progress, status, speed, seeds and peers of a particular torrent. Furthermore, latest update that comes with the bittorrent client free download makes it possible for users to select priority inside torrent files. This means if you have a lot of files in a torrent file, you can select which files you want to download and also choose priority for downloading.
What else can a free bit torrent client do
Going beyond the user interface, there are a lot of useful functions built in the platform of ChilliTorrent free torrent client. First, but not least it opens magnet links. Magnet links are a modern way of serving torrent files through best torrenting software. From users' perspective it doesn't change much, but all latest and best torrent software use magent links. It's basically a hyperlink containing the hash code of a torrent without using a tracker. After clicking on those links your free bittorrent client will start downloading torrents. Though a lot of torrent engines have started using such magnet links, the classical way of hosting torrent files hasn't gone anywhere. Another great part of the ChilliTorrent bittorrent client for Windows is the possibility to create torrent files. For that you only need to add a source file or folder and a tracker to share it online. Soon the free bit torrent client can share your fresh torrent to others.
Free torrent client comes with a lot of settings to choose from. Download torrent client and you can easily adjust how it processes torrents. Speed limit is possible to set for both, upload and download, though the best practice is to limit the upload speed in order not to suffer from low download rate. Next the user can choose ports but we strongly suggest keeping the default values of this simple bit torrent client. The download path for a torrent program is usually either desktop or the default download folder in Windows. This is the folder your fresh torrents will be downloaded to. The free bittorrent client download of ChilliTorrent ables users to change queue settings for maximum active downloads. By default it's set to hundred but this can be easily changed.
Torrent software makes downloading easy
We have now overlooked some of the essential features that every free bittorrent client should have, but in fact ChilliTorrent does have. One of the most important functions of the best torrent client in our opinion is the search feature. There are a lot of good torrent clients our there to download for free, but how could one find torrent files others have uploaded if there was no search engine. Most people use a separate torrent engine to find files and then download them using their favorite torrent program. Well, that's not bad, but what if the simple bittorrent client already had a built-in search? This would make the whole process much more simple. In fact, this is what ChilliTorrent was made for. The developers behind this bittorrent client free download have implemented the biggest search engine for torrents. The search bar is located above the torrent list so noone can leave it unnoticed. The easiest part is to just type something one wants to look for, and the default browser will open up the search results. Now there is nothing more to do to choose the suitable torrent file and start downloading via the best torrenting software. Please be advised that ChilliTorrent does not host any torrent files and the search tool is just to find legit data from online search engines.
ChilliTorrent designed as simple torrent client
It's clear that the simple torrent client is really easy to use. Though some people may find themselves in difficulties if they haven't been using a bittorrent client before. In such case there is online help from the developers. By going to About and selecting Help from the user interface, one ends up in the FAQ section and can learn most users' issues. If the particular issue is not listed there is always real time support from the staff of ChilliTorrent.
Trying out good features
To sum up all the good details of this torrents client download, one should actually try it to understand the features. It is not easy to find the best torrent downloader but once you get the hang of it, sharing files online could never be easier. The developer team behind ChilliTorrent has put effort in the free bittorrent client download to make it suitable for everyone. While ChilliTorrent makes it possible to search and download torrent files, the team behind it does not support copyright infringement and reminds that it is up to every user how the torrent downloader is being used.