Click "About" -> "About Program" in ChilliTorrent client to see which version you are running.
If you have anything below 1.07, we strongly suggest to update to 1.07 now. If you are already running this version, you are not supposed to do anything.




HOW TO UPDATE CHILLITORRENT CLIENT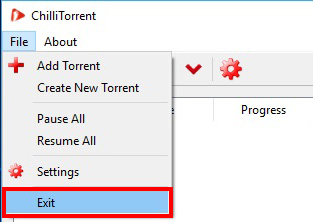 1. Finish your downloads, so you don't lose them with update.
2. Exit ChilliTorrent by clicking File -> Exit in program. This is very important. See photo ->
3. Download and install version 1.07: click here
WHAT IS NEW IN THIS UPDATE:
Version 1.07 (released on 7/10/2017)
————
Rebuilt with libtorrent 1.1.3, libboost 1.55, and Qt 5.8
Low priority added to the list of priorities
Delete partially downloaded files when the torrent is removed
Changed the program data path to a proper path with user permission
New search engine
Bug fixes and improvements